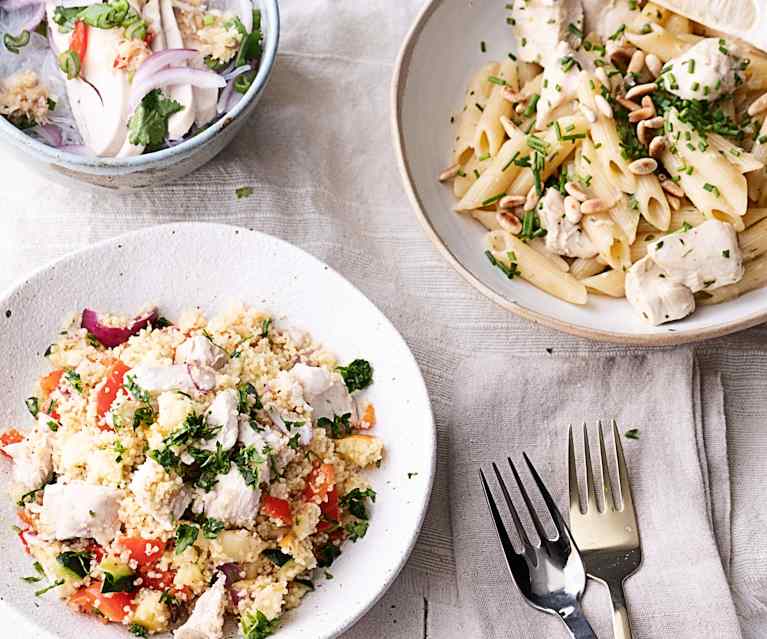 TM6 TM5
Compatible versions
Please be careful, this recipe is designed for a specific device combination and is not compatible with other machines.
1 receta, 3 platos: Pasta piccata con pollo. Ensalada de fideos orientales y pollo. Cuscús con pollo y verduras
Difficulty
Most of our recipes are easy. Those that require a little more time or cooking skills are rated medium or advanced.
Preparation time
This is how much time you need to prepare this meal.
Total time
This is the time it takes to prepare this meal from start to finish: marinating, baking, cooling etc.
Serving size
This shows how many portions this recipe makes.
Ingredients
200 g de fideos orientales transparentes
Aderezo para la ensalada
100 g de cacahuetes fritos salados
20 g de perejil fresco (hojas y parte del tallo)
3 dientes de ajo
100 g de cebolleta
20 g de jengibre fresco en rodajas de 1-2 mm
50 g de salsa de pescado
1 cucharadita de piel de limón rallada
80 g de zumo de limón
50 g de miel
Pollo al vapor y fideos orientales
650 g de agua (y algo más para el remojo y para la pasta)
1200 g de pechuga de pollo sin piel
2 cucharaditas de sal
400 g de pasta corta seca (macarrones, espirales, farfalle, etc)
Pasta piccata de pollo
50 g de mantequilla
20 g de harina de trigo
50 g de vino blanco
30 g de zumo de limón
½ pastilla de caldo de pollo
20 g de alcaparras
10 g de cebollino fresco picado
20 g de piñones tostados (optional)
Ensalada de fideos orientales con pollo
20 g de cebolleta recta, en rodajas finas
50 g de cebolla roja, en rodajas finas
1 chile rojo fresco, en rodajas finas
20 g de cilantro fresco picado
Cuscús con pollo y verduras
300 g de cuscús
2 cucharaditas de sal
150 g de cebolla roja en trozos
150 g de pimiento rojo en trozos
200 g de manzana sin semillas, en cuartos
150 g de calabacín en trozos
50 g de vinagre
50 g de aceite de oliva virgen extra (y algo más para el cuscús)
1 cucharada de comino molido
2 pellizcos de pimienta negra molida
---
Nutrition

per 1 ración

Calories

2504 kJ / 598 kcal

Protein

33.8 g

Carbohydrates

72.7 g

Fat

18.6 g

Saturated fat

4.6 g

Fiber

4.9 g

Sodium

1205.2 mg
---
Alternative recipes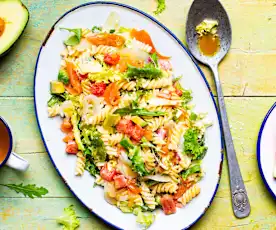 Ensalada de pasta con sandía y ahumados
10min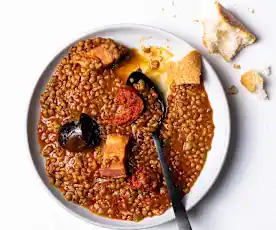 Lentejas pardinas con compango
2h 50min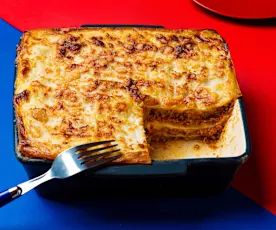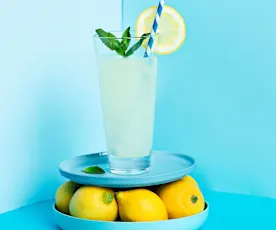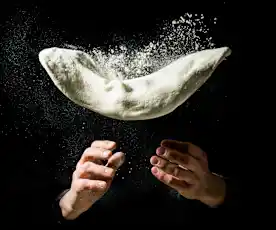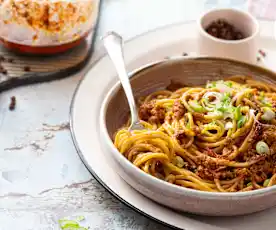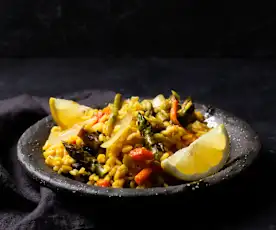 Arroz vaporizado con verduras y cítricos (Cocción de arroz)
1h 30min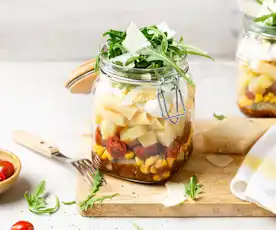 Ensalada de pasta, huevo y patata con vinagreta a la italiana
40min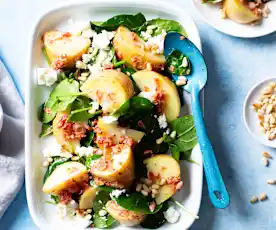 Ensalada tibia de patatas y espinacas con tomates secos
40min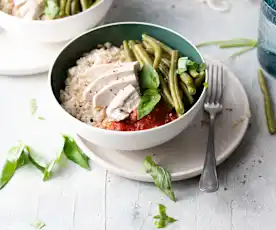 Bol de arroz integral, judías verdes, pollo y salsa de tomate
1h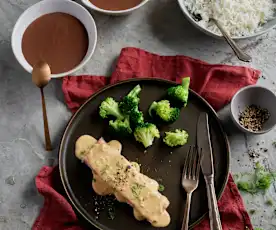 Menú: Salmón con arroz basmati y salsa de eneldo. Natillas de chocolate
40min