Are you Ready for Thanksgiving?
We know Thanksgiving can be stressful, especially this time of year. To relieve some of the pressure, we turned to our friend Bill Yosses. As the White House Executive Pastry Chef from 2007-2014, Bill knows a little something (ok, A LOT!) about executing exceptional meals. To help you stay organized – and sane – Bill developed the ultimate 7-day holiday planner exclusively for the Thermomix® community. "This takes the pressure off serving time and allows for late arrivals, little family crises, unexpected guests and the happy general chaos that make the holidays a celebration," shares Bill. "You will be relaxed because you are not frantic over timing and these dishes taste better when they have had a moment to rest and the flavors to mellow and combine."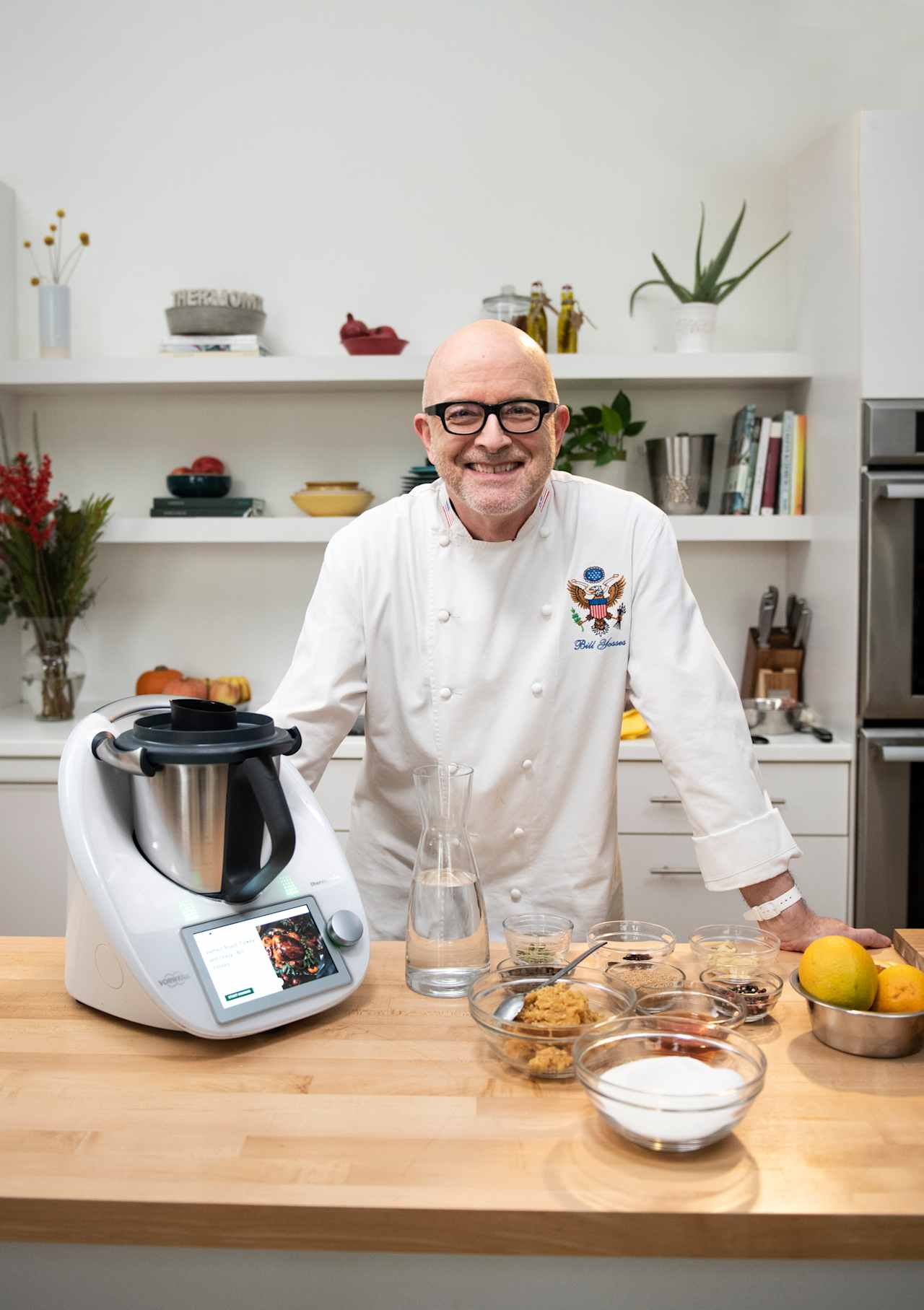 Make sure to bookmark Bill's new Holiday Favorites collection on Cookidoo®, then follow his plan to ensure your holiday is a delicious success!
7 Days Before Thanksgiving:
Believe it or not, a week before Thanksgiving is the perfect amount of time to start preparing for your big meal. First things first – order your Turkey! With potential turkey shortages, and smaller turkeys in demand, make this step a priority if you plan to serve Bill's Perfect Roast Turkey and Gravy. Want to skip the turkey this year? Bill's recipe for Steamed Halibut with Romesco Sauce is a delicious alternative for an intimate family gathering.
It is also time to meal prep the Roasted Garlic Puree from Bill's Hummus with Brussel Sprouts and Crunchy Topping recipe. Bill says, "I always have some roasted garlic purée on hand. It has a warm earthy flavor and gives depth to any dish. It is especially good in salad dressings or as an addition to sauces for meat and fish. Make enough to last several weeks, store in a sterilized container and refrigerate."
5 Days Before Thanksgiving:
What holiday celebration is complete without a pie? Get started on yours five days out from Thanksgiving by preparing the pie dough from Bill's delicious Pumpkin-ish Pie recipe. The Turbo Mode on the Thermomix® turns flour, sugar, salt, butter and water into perfect pea size granules in seconds. Transfer to a floured surface, gather the shaggy dough and pat together. Divide dough into two equal pieces, flatten into circles (1 in. thick) and wrap with cling wrap and refrigerate!
Want a quick tip? Chef Bill says the best pie dough shouldn't look like a very smooth, dough-like pizza or bread because that means the gluten has already been worked out. It's okay for the dough to come out crumbly and with a sandy texture before rolling out. How does your dough look?
4 Days Before Thanksgiving:
Can you feel the stress of the holiday slowly fading away? Thanks to Bill's planner, we sure can! Four days out from Thanksgiving, Bill recommends cooking the Pumpkin-ish Pie filling. Using fresh butternut and kabocha squash, instead of the canned stuffed, sets this pie apart. You can keep it sealed and refrigerated until we fill the pie on Thanksgiving Day.
If you plan to make the Steamed Halibut with Romesco Sauce dish, Bill recommends meal prepping the Romesco today. This bold, zippy sauce is traditionally served with fish or roasted vegetables but is also delicious as a dip for flatbread. Bill's recipe makes enough to do both!
Use the Shoppable Recipes feature on Cookidoo® to order the rest of your ingredients!
⁠3 Days Before Thanksgiving:
To brine or not to brine – that is the question! Bill says the extra step is worth it as it adds flavor and moisture to your turkey. His recipe calls for incredible aromatics like allspice berries, cardamom pods, star anise, and cloves.
Make the brine today and store it in the fridge – tomorrow is when you'll start brining the turkey. Make sure your brining container is large enough to submerge your turkey in with the brine (and still fit in the refrigerator!). Use a non-reactive container, e.g. glass, stainless steel or extra large food safe sealable storage bag.
2 Days Before Thanksgiving:
With two days left until the big day, it's time to start brining the turkey and cooking all of the delicious sides and casseroles.
The first item on our to-do list today is to finish making the Hummus with Brussel Sprouts and Crunchy Topping and refrigerate afterwards.
Next, we are going to place the Turkey in the Brine and refrigerate for at least 48 hours.
After that, he suggests rolling out the pie dough we made a few days ago and lining your pie dish. Freeze overnight.
Next, we are moving on to stuffing! Bill's recipe for Cauliflower Stuffing for Hedonists is a unique twist on a holiday favorite. Bill recommends preparing the recipe now and reheating the day of.
After the stuffing is made, we are going to begin cooking the Sweet Potato Casserole with Béchamel and Multi-Color Cauliflower. Once put together, cover the casserole and refrigerate until the morning of Thanksgiving.
Finally, Bill suggests preparing the ingredients for the Kale Quinoa Green Goddess Salad. It's important to remember to store the ingredients separately and assemble and add dressing prior to serving.
1 Day Before Thanksgiving:
We are only one day away from Thanksgiving and thanks to Chef Bill Yosses, the stress of the holiday can be put behind us! Today we are going to pre-bake the pie crust. Line your frozen pie dough shell with foil or parchment paper and fill with pie weights or dry beans. Pre-bake pie shell 30 minutes (375°F) or until evenly browned. Remove foil and baking weights and set pie shell aside to cool. This step does not require the pie to be refrigerated. Tomorrow, is when we will fill the pie!
Our next step today is to begin making the Buckwheat Blinis for your restaurant-quality appetizer. Once they are cooked, Bill suggests layering parchment paper between the layers and wrapping the stack in plastic wrap. He also advises to not layer too high and store on the counter or in a cool area of the pantry.
Thanksgiving Day:
We finally made it to Thanksgiving and luckily, there isn't much left for us to prepare! On the morning of Thanksgiving, Bill says to remove the Turkey from the Brine and allow it to drain for 20 minutes. Next, place the Turkey in a roasting pan on a bed of vegetables or on a rack and cover with a soaked cheesecloth and roast the bird – this will ensure a delicious Turkey for dinner! The next step is to remove the foil from the pre-baked pie shell, fill with pie filling and bake in the morning.
Finally, two hours before serving, make sure your vegetables, casseroles and pies are all baked by this time and reheat briefly to serve!
1 Day After Thanksgiving:
Clear out your leftover turkey, stuffing, potatoes and pies and get ready to reinvent them into something fresh and new with the Thankful for Leftovers recipe collection on Cookidoo®.