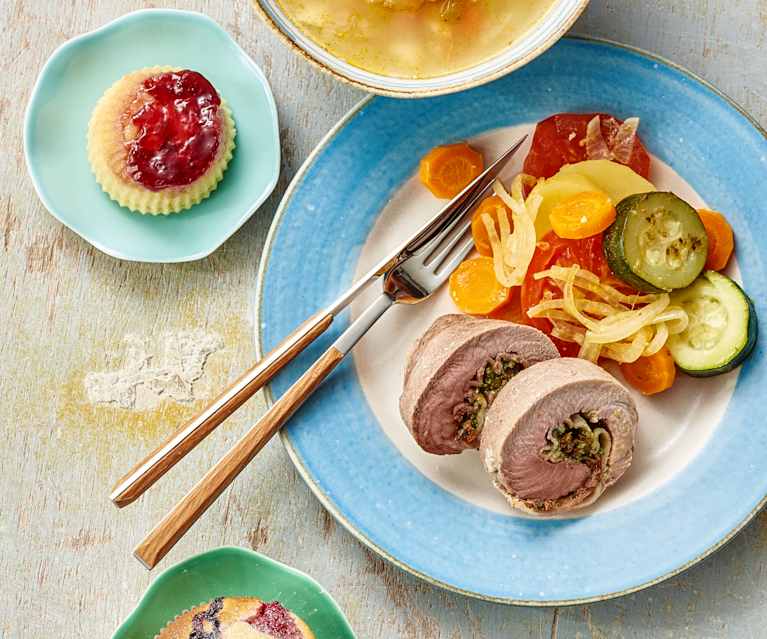 TM5 TM6
Compatible versions
Please be careful, this recipe is designed for a specific device combination and is not compatible with other machines.
Sopa de verduras con pasta. Paleta de cerdo rellena y verduras. Pudins y muffins
Difficulty
Most of our recipes are easy. Those that require a little more time or cooking skills are rated medium or advanced.
Preparation time
This is how much time you need to prepare this meal.
Total time
This is the time it takes to prepare this meal from start to finish: marinating, baking, cooling etc.
Serving size
This shows how many portions this recipe makes.
Ingredients
Muffins de frutos rojos y pudins al vapor con frambuesa
4 cucharaditas de mermelada de frambuesas (40 g)
2 huevos
200 g de azúcar
60 g de mantequilla en trozos
200 g de leche
½ cucharaditas de vainilla líquida
or 1 cucharaditas de azúcar de vainilla casero
200 g de harina
2 cucharaditas de levadura química en polvo
200 g de frambuesas frescas
or 200 g de frambuesas congeladas
150 g de arándanos frescos
or 150 g de arándanos congelados
Paleta de cerdo rellena
500 - 600 g de paleta de cerdo fresca deshuesada en una pieza formando un filete grande de aprox. 1.5 cm de grosor
1 pellizco de sal
1 pellizco de pimienta molida
4 - 5 lonchas de beicon
20 g de tomates secos
30 g de queso parmesano
5 ramitas de perejil fresco (solo las hojas)
1 huevo
Verduras de acompañamiento y sopa de verduras con pasta
1 diente de ajo
300 g de cebolla (200 g en trozos y 100 g en rodajas)
130 g de zanahorias peladas y en rodajas (5 mm)
70 - 80 g de verduras variadas (por ej. pimiento rojo o verde, apio) en trozos
30 g de aceite de oliva virgen extra
50 g de vino blanco (optional)
1 ½ cucharadita de sal
1 cucharadita colmada de concentrado de caldo de verduras casero
or 1 pastilla de caldo de verduras (para 0,5 l.)
1000 g de agua
250 g de patatas en rodajas (5 mm)
160 g de calabacines en rodajas (1 cm)
150 g de tomate maduro en rodajas (1 cm)
½ cucharadita de orégano seco
60 g de pasta corta seca para sopa (por ej. conchas o tiburones)
---
Nutrition

per 1 ración

Calories

5439 kJ / 1299 kcal

Protein

49 g

Carbohydrates

133 g

Fat

59 g

Fiber

11.6 g
---
Alternative recipes
Show all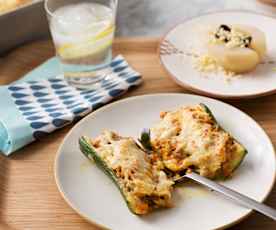 Menú: Calabacines rellenos. Peras con chocolate
45min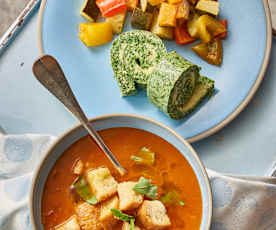 Sopa de pan y tomate. Tortilla de espinacas y Ratatouille al vapor.
1h 5min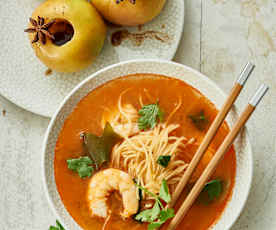 Sopa tailandesa de langostinos. Manzanas con especias
1h 15min