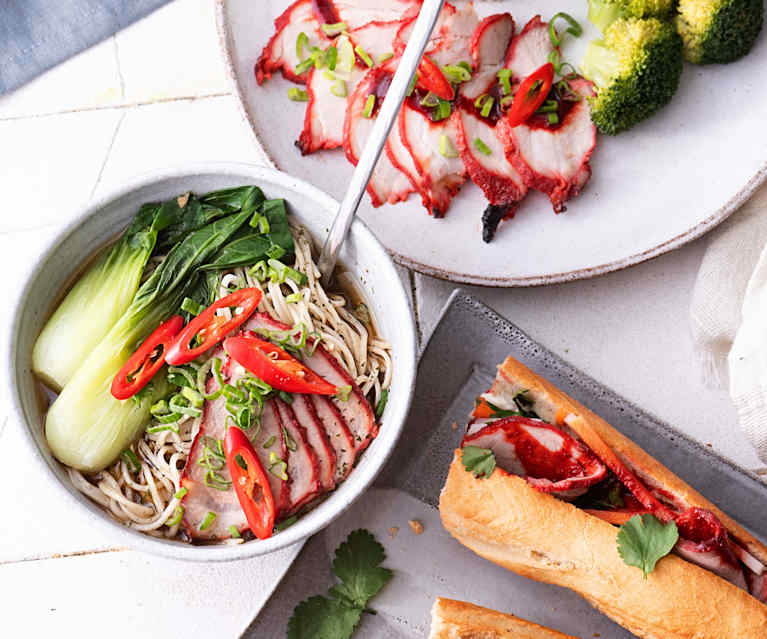 TM6 TM5 TM31
Compatible versions
Please be careful, this recipe is designed for a specific device combination and is not compatible with other machines.
1 receta, 3 platos: Bocadillo de char siu. Char siu con noodles y pak choi. Char siu con arroz y brócoli
Difficulty
Most of our recipes are easy. Those that require a little more time or cooking skills are rated medium or advanced.
Preparation time
This is how much time you need to prepare this meal.
Total time
This is the time it takes to prepare this meal from start to finish: marinating, baking, cooling etc.
Serving size
This shows how many portions this recipe makes.
Ingredients
Rábano daikon y zanahorias en escabeche
20 g de azúcar
20 g de agua
30 g de vinagre
100 g de zanahoria en juliana (aprox. 0,5 cm x 5 cm)
100 g de rábano daikon en juliana (aprox. 0,5 cm x 5 cm)
Char siu (cerdo asado chino)
1000 g de jamón de cerdo fresco en filetes de 3 cm
1 cucharada de ajo en polvo
30 g de azúcar
50 g de salsa de soja
50 g de salsa hoisin
or 50 g de kétchup
50 g de vino de Oporto
or 50 g de vino blanco para cocinar
2 cucharaditas de cinco especias chinas en polvo
½ cucharadita de sal
50 g de miel
10 g de aceite de sésamo tostado
¼ de cucharadita de colorante rojo (optional)
Cocción de arroz, brócoli, pak choi y noodles
1200 g de agua
1 cucharadita de sal
250 g de arroz
400 g de ramilletes de brócoli
200 g de pak choi
250 g de fideos orientales de huevo
Bocadillo
2 baguettes
2 - 3 cucharadas de mayonesa
½ pepino en rodajas finas (aprox. 2 mm)
4 ramitas de cilantro fresco en trozos de 3 cm
1 guindilla roja de cualquier tipo en rodajas finas
Porción de arroz, char siu y brócoli
1 cucharada de cebollino fresco picado
Porción de noodles y char siu
1300 g de agua
30 g de salsa de soja
15 g de aceite de sésamo tostado
2 pastillas de caldo
1 cucharada de cebollino fresco picado
---
Nutrition

per 1 ración

Calories

2650.5 kJ / 633.5 kcal

Protein

27.3 g

Carbohydrates

72.2 g

Fat

25.8 g

Saturated fat

7 g

Fiber

4 g

Sodium

1089.7 mg
---
Alternative recipes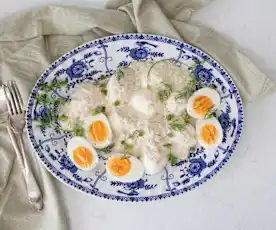 Ensalada polaca con salsa tártara
45min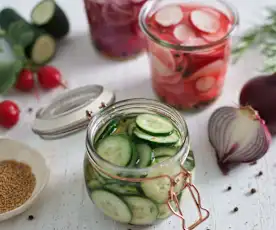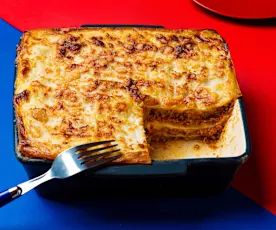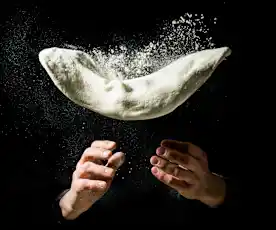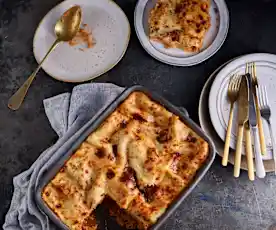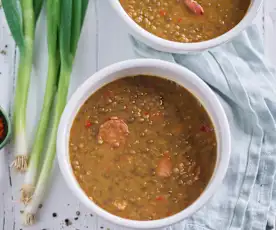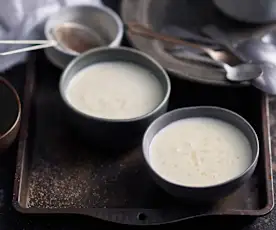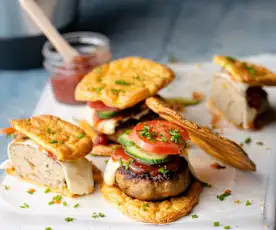 Hamburguesa de pollo con pan nube
1h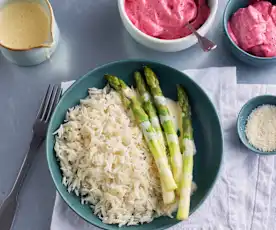 Menú: Espárragos verdes con arroz y sabayón de limón. Espuma de frutos rojos
40min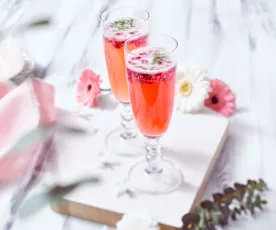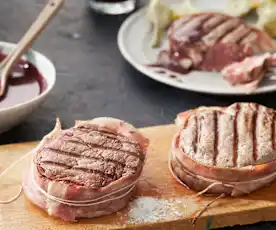 Solomillo de ternera en salsa de vino tinto
25min