Enjoy Cold Summer Dishes
Summer has finally arrived! Enjoy sun, the sea, holidays, starry nights, new adventures and friends. Keep summer in the kitchen fun and tasty: with so many fresh and fast recipes to choose from on Cookidoo®, your summer eating will be full of flavor.
Cold Dishes to Prepare Ahead
Relax and enjoy a light and flavorful dish under the sun or in a balmy evening breeze, and make it a holiday in your own backyard. While you wait to go on your well deserved vacation, enjoy fresh summer recipes on Cookidoo®. Recipes such as Huli Huli Chicken Skewers are simple; serve over a tasty chopped salad for a light dinner. Turn a hot dish into a cold dish, try a vegetable frittata, quiche or soup.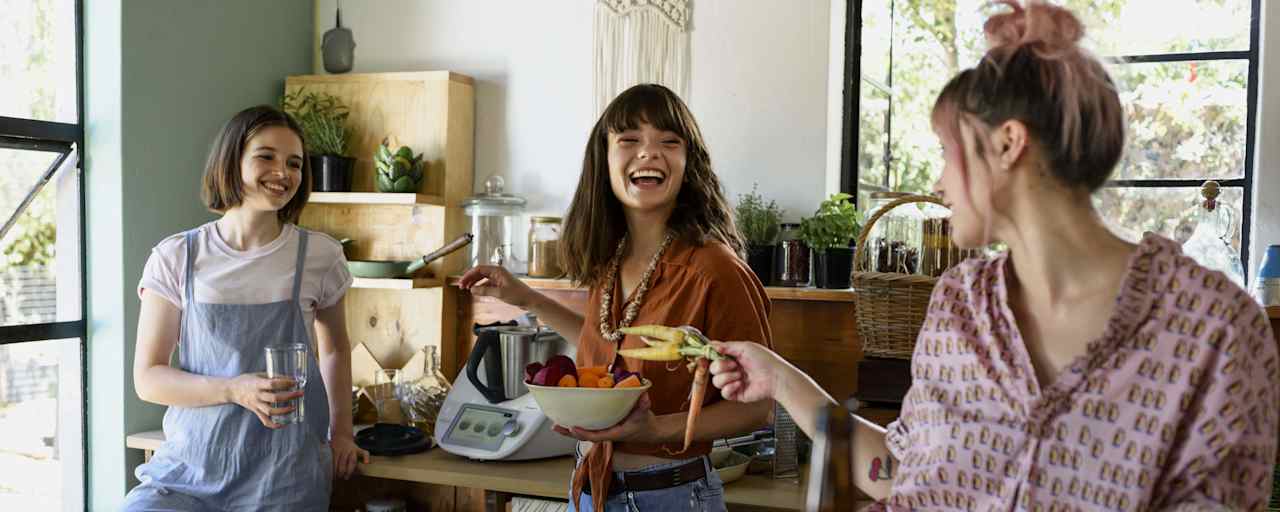 Dips Make it Special
A simple dip takes a cold dish to new level. For instance, these Vegan "Crab" Cakes can be served warm or cold, with a dip. Serve cold cooked shrimp with a cocktail sauce and crusty baguette. One of the easiest ways to create varied dips is to start with a basic sauce and add your favorite flavorings.
Mayonnaise Makes a Meal
Mayonnaise is one of the best "canvases" for creating flavorful fresh dips. Making this mayonnaise in Thermomix® is easy and fast, and most of all, it works every time. Make a batch and then get creative with added flavors.
• Pesto Mayonnaise: stir a spoonful of Thermomix-made Basil Pesto to make a pasta salad.
• Barbecue Mayonnaise: stir in a spoonful of Barbecue Sauce.
• Cocktail or French Fry Sauce : mix up half mayonnaise and half Tomato Ketchup for a super quick sauce to serve with seafood, french fries or roasted potatoes.
• Curry Dressing: stir a spoonful of curry paste into mayonnaise for a curry dressing to serve with cold chicken.
More Ideas…
You'll find so many more ideas in Cookidoo®. Look for cold soups, such as Gazpacho or Leek and Potato Soup, Spring Rolls, Asian Noodle Bowls, or Sushi… Enjoy the summer while it is here! With Thermomix® in the kitchen the light and fresh recipes of summer are ready in a few minutes, leaving you time to relax or … or pack your suitcase!