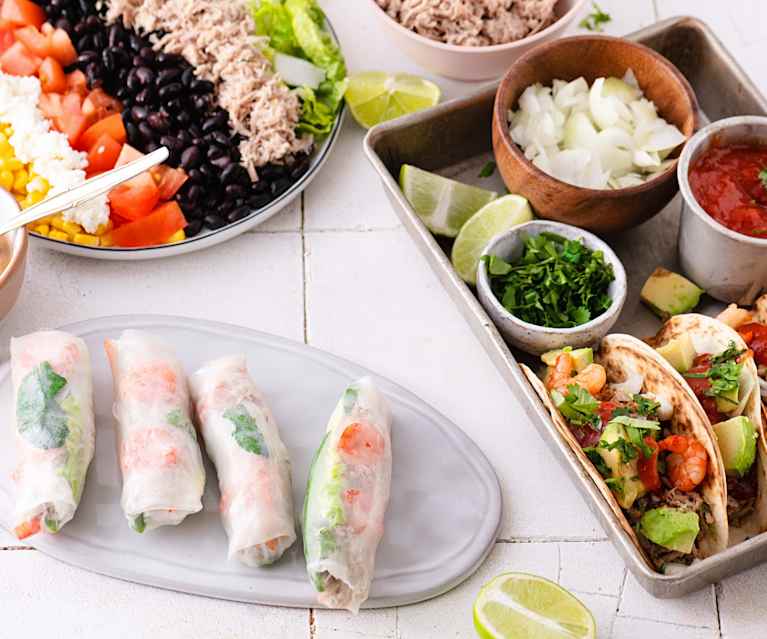 TM6 TM5 TM31
Compatible versions
Please be careful, this recipe is designed for a specific device combination and is not compatible with other machines.
1 receta, 3 platos: Rollitos vietnamitas con pulled pork. Tacos con pulled pork. Ensalada de judías negras con pulled pork
Difficulty
Most of our recipes are easy. Those that require a little more time or cooking skills are rated medium or advanced.
Preparation time
This is how much time you need to prepare this meal.
Total time
This is the time it takes to prepare this meal from start to finish: marinating, baking, cooling etc.
Serving size
This shows how many portions this recipe makes.
Ingredients
Preparaciones básicas
100 g de fideos orientales de arroz (Vermicelli)
50 g de cacahuetes fritos salados
70 g de cebolla en trozos
15 g de cilantro fresco (hojas y parte del tallo)
Cocción de fideos orientales de arroz y gambas
500 g de agua
1 cucharadita sal
300 g de gambas crudas peladas
or 300 g de gambas crudas peladas congeladas (descongeladas)
Pulled pork y salsa hoisin de cacahuetes
200 g de agua
70 g de mantequilla de cacahuete
70 g de salsa hoisin
100 g de aceite de oliva
600 g de solomillo de cerdo en trozos de 3 cm
80 g de zumo de naranja
1 naranja en cuartos
2 cucharaditas de sal
5 granos de pimienta negra
5 ramitas de tomillo fresco
Vinagreta
30 g de vinagre
1 cucharadita sal
Tacos
12 tortillas de trigo
2 cucharadas de aceite de oliva
½ cucharadita de sal
1 aguacate en dados de 1-2 cm (optional)
2 limas en gajos
50 g de salsa de tomate
Rollitos vietnamitas
12 obleas de arroz
12 hojas de lechuga en trozos de aprox. 5x12 cm
12 - 24 hojas de menta fresca
100 g de zanahoria en bastones de 5x0,5 cm
100 g de pepino en bastones de 5x0,5 cm
100 g de pimiento rojo en bastones de 5x0,5 cm
Ensalada
200 g de mozzarella
200 g de lechuga en trozos de 2-3 cm
250 g de judías negras cocidas (en conserva), lavadas y escurridas
2 tomates en dados de 2 cm
250 g de maíz en conserva (escurrido)
---
Nutrition

per 1 ración

Calories

2184 kJ / 522 kcal

Protein

29.2 g

Carbohydrates

47.1 g

Fat

24.8 g

Saturated fat

5.8 g

Fiber

5.6 g

Sodium

1701.5 mg
---